TCS London Marathon 2024
Date: Sunday 21st April 2024
Entry fee: £50
Fundraising target: £2,500
We have now filled our places in the 2024 TCS London Marathon.
We have now filled all of the places for team Bowel Research UK in the 2024 TCS London Marathon.
To enquire about joining our waiting list, please email our fundraising team.
If you secured your own place in the London Marathon ballot and would like to use your place to fundraise for us, then please complete our online form.
Join team Bowel Research UK at the 2024 TCS London Marathon!
The most famous marathon in the world, the TCS London Marathon has over 40,000 runners taking part and draws crowds of an estimated 750,000 to the streets of the capital.
What support do I get when I sign up?
As part of Team Bowel Research UK, you will receive:
An exclusive Bowel Research UK running vest to wear during raining and on race day
A chance to connect with other runners in an exclusive WhatsApp group
A training day where you'll get lots of expert tips and advice
Tailored advice from us to help you reach your targets, including a fundraising pack full of tips and inspiration
Lots of help with PR and support of our social media community to help achieve your goals
On the day support including a cheer point
Why run for Bowel Research UK?
Our cause is worth fighting for and we'd love for you to become part of the team! With your support, we can:
Work towards a future free from bowel cancer
Improve the quality of life for those affected by Crohn's disease, colitis, IBS and other life-altering bowel conditions
Get vital health messages out there and trample on taboos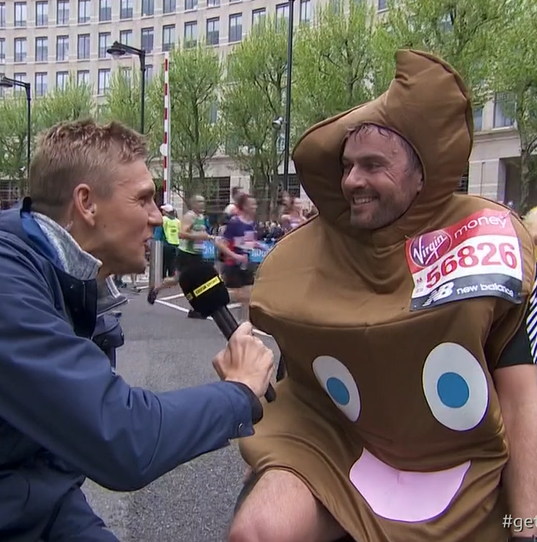 Running with your own place?
If you have been successful in the public ballot, have a place through a running club or have a deferred entry, we would be delighted to welcome you to team Bowel Research UK. Complete our sign up form now to join our team.
As an own place runner you receive all the same support from our dedicated events team as those with a charity place, but you set your own fundraising target.
Get in touch to find out more! fundraising@bowelresearchuk.org